Carbon Steel
Carbon Steel — often used for Traditional Japanese Knives, good Quality, not Rustproof. The Japanese company Hitachi Metals makes special cutting steels which represent the highest global standard and are used for almost all the Hocho we offer. These Yasuki Special Steels (YSS), named after their place of origin, are produced from iron sand, the same material that was used to make the legendary Samurai swords. They have a highly pure structure and thus offer the best achievable sharpness for cutting.

We're pleased to introduce the Steel Qualities for Traditional Japanese Knives as follows.
Blue Paper Steel(Aogami)
Hitachi high carbon steel, specifically developed for tools and knives. This one has highest wear resistance and lowest toughness. Very good steel, and very popular choice for high end Japanese kitchen knives. A lot of Japanese custom makers use it. Easy to sharpen, even high hardness. Edge holding is just outstanding. Original Japanese knives made from these materials are treated with non-corrosive, food-safe oils (e.g. camellia oil) to prevent oxidation.
White Paper Steel(Shirogami)
Identical to Blue Paper Steel(Aogami) , except for the absence of Cr and W. It's very pure carbon steel. Very popular knife steel for high end Japanese cutlery and especially with Honyaki type blades.
Very good edge holding, very high working hardness. This means you can grind it to exceptional sharpness, which it retains for a long time. These blades are particularly suitable for the gentle preparation of foods – but they are prone to oxidation, which means rust.
Yellow Paper Steel(Kigami)
Better steel compared to SK series, but worse than both, Aogami and Shirogami. Used in high end tools and low/mid class kitchen knives.
SK Steel series
Solid performer as a cutlery steel. Low grade steel, mainly due to impurities. Used mainly in hand tools like axes, hammers and cheap kitchen knives.
Japanese Steel(Nihonko, Hagane, Virgin Carbon Steel)
Important steel that has been used to produce knives in Japan since ancient times, providing better sharpness than common stainless steel. The Japanese steel is a premium grade of steel that boasts extremely high carbon content. It is manufactured in limited quantities in Japan. The steel is harder than German steel and has a greater sharpening potential. It also maintains an edge longer than other lower-carbon steel formulae. These features make Japanese steel the ideal material for manufacturing high performance cutlery.

Stainless Steel
Stainless steel is an alloy of iron, approximately 10~15% chromium, possibly nickel, and molybdenum, with only a small amount of carbon. Good Stainless steel blade kitchen knives make good rust resistance, easy maintenance, good sharpness, edge retention and ease of re-sharpening. Therefore, they have become more and more popular among beginning users to professional users in this generation.
The chart such as the chart below seems popular, and you may get numeric material information.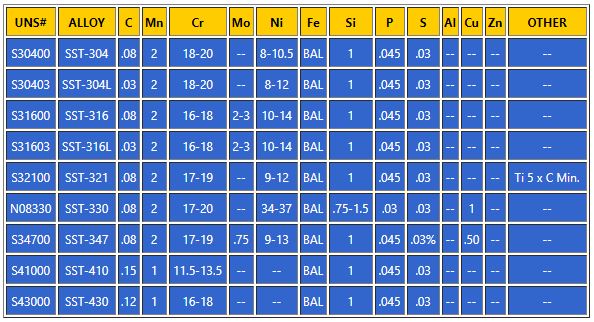 This time, we do not explain about the materials in the chart, but the frequently-heard expression dedicated for kitchen knives as follows,
High Carbon Stainless Steel
The high carbon stainless steel is a metal alloy containing relatively high amounts of carbon. The amount of carbon can be as much as 1.2% and as low as 0.2%. The reasons for this vary with the manufacturer and the type of blade they're creating. It is intended to combine the best attributes of carbon steel and ordinary stainless steel. The high carbon stainless steel blades do not discolour or stain, and maintain a sharp edge for a reasonable time.
SG-2 (Super Gold No.2)
This is more common and popular Powdered High Speed Tool Steel for knife blades. You can taste speechless cutting performance, great edge retention and easy maintenance (resistance for the rust). Achieves very high hardness. Some high-class knives are made of this SG-2, Elite line of Shun and Yaxell GOU series.
VG-10
One of most popular and high ranked Japanese Stainless Steel for sharpness, edge retention and durability. Cobalt added Special high Carbon Stainless Steel, often be called as "Cobalt Steel". Many of makers use VG-10 for the Damascus blade too.
VG-1
This is good basic and common Japanese Stainless steel which makes high hardness, edge retention, strength and rust resistance. Both VG-1 and VG-10 are produced from Takefu Steel Company.
ZDP 189
Extremely high carbon and chromium content --- Carbon: 3%, Chromium: 20.0%, Tungsten: 1.50%, Vanadium: .10%, Molybdenum: 1.30%. Very high hardness, several makers harden it to 65 or even 67HRC This is one of the most recent developments in PM steels. This is one of the harder steels to sharpen by hand. It is also known as MC66 and is used by Henckels under that alias.
Gingami No.3(Gin-san)
Fine Japanese Steel Company Hitachi's special stainless steel which makes similar sharpness, edge retention as Carbon Steel. Gingami No.3 often be used for Japanese Traditional Style knives
Sweden Stainless Steel
The Pure Stainless Steel material from Sweden. We heard several makers use Sweden Stainless Steels for the stable quality control. Selected Sweden Stainless steel material are easier for making process, heat-treating process, and it will help for making stable good quality control.
Molybdenum Vanadium Stainless Steel
One of common and good standard, stainless steel for the knife blades. We often recommend Molybdenum Steel Kitchen knives for first users and beginning users of Japanese knives because of its characteristics. Ease of re-sharpening, good durability and rust resistance, and reasonable price range.
Outline of Multi-Layer Structure
Originally, many Japanese kitchen knives clearly show their relation to the Samurai sword. The blades are forged traditionally in multiple layers, with an inner core of hard and brittle carbon steel, forgewelded with a thick layer of soft and more ductile iron steel sandwiched around the core so that the hard steel is exposed only at the cutting edge. 
Only this elaborate procedure ensures an optimum synthesis of breaking strength and ultimate sharpness.

The shape of these knives has developed solely from their intended purpose, which gives them an aesthetic quality not remotely influenced by fashion trends. The light wooden handles, the well-balanced design and the extraordinary sharpness make using Hocho a remarkable experience.
Nowadays stainless steel is often used for Japanese kitchen knives, and multi-layer laminated blade structure (so-called "Damascus") is used in more expensive blades to add corrosion resistance while maintaining strength and durability.
Hamon
A customer asked about the wave line on a popular kitchen knife, "Hi there, I've got the knife. awesome sharpness, love it. Just one thing bothers me – there are two scratches on both sides each of the blade along all way along the cutting edge. I am not sure what is it. Is it a defect?"


As you know, the lines are not a kind of defect but necessary lines on 3 Layer Kitchen knife. The wave lines are called "hamon", boundary lines between the core and sandwich layers on both side of the knife.

The hamon is beautiful and unique one by one knife, made by harmony of two different materials.

Generally, many of middle and high class Japanese kitchen knives clearly show their relation to the Samurai sword. The blades are forged traditionally in multiple layers, with an inner core of hard but brittle steel, forgewelded with a thick layer of soft and more ductile steel sandwiched around the core so that the hard steel is exposed just at the cutting edge. Only this elaborate procedure ensures an optimum synthesis of breaking strength and ultimate sharpness.
Damascus Pattern
Some like Damascus knives because of the aesthetic value for their gift, collection and cooking before people. If you personally like the Damascus pattern very much, we recommend one of the beautiful Damascus knives.
From a view of strength and durability, such a multi-layer structure as Damascus can not simply be said "no meaning".
Before discussion of Damascus, we have to start from the benefit of multi-layer blades. The benefit of the sandwiching structure is to strike a balance both the harder & sharper edge and better durability of the entire blade.
The most simple multi-layer blades have a three layer structure, made of a hard steel core that is sandwiched by soft (resilient) steel so that the hard core is exposed only at the cutting edge. That realizes better durability or chip-resistance.
* Hard steel core is generally easier to be chipped, that's why the sandwich structure can be a good solution.
** If the core is not stainless (like high carbon steel) covered by stainless steel layers on both side, the blade totally get good rust-resistance as well as chip-resistance.


One of the applied approach of the multi-layer blades eventually leads to a Damascus pattern. Therefore, such a multi-layer structure can not simply be said "no meaning" from a view of strength and durability.
***Be careful that there exist blades which have damascus pattern to the end of the cutting edge. Such a knife has just aesthetic value without the above benefit of the sandwich structure.

Many sandwich outer layers covering the center core realize the unique Damascus pattern for each knife. You can get only one design of the blade in the world. Therefore Damascus knives are much recommended as a gift as well as just for better cooking experience. One demerit of the Damascus knives is the cost because of additional production process.
Needless to say, it's important to know what materials are used as the core and sandwich layers first.
FYI, the core is sometimes not a simple high carbon steel but VG-10 or SG-2 and so on. We think they are excellent materials for a sharp knife.
Free Shipping
We offer complimentary worldwide tracked shipping on all orders
Satisfaction Guaranteed
30-day returns (no questions asked) to ensure 100% satisfaction is guaranteed
Customer Service
Our customer care team is available to help you with your questions